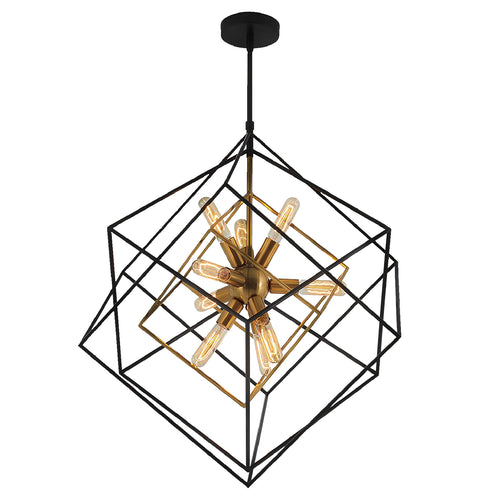 FREE
SHIPPING
100% MONEY
BACK GUARANTEE
ONLINE
SUPPORT 24/7
Modern Geometric Chandelier: A black square frame and sputnik light make up this modern chandelier which symbolizes the star surrounded by planets and emits sun lights to illuminate your space and give a stylish touch to the household; The unique sputnik light not only fully protects the high-quality iron and ensures the life of the entryway light fixture, but also forms the minimalist style. This mid century chandelier will be the perfect attempt to upgrade your home!
;
Sputnik Chandelier Omnipotence: This dining room light fixture could be used as either flush mount lighting or hanging lighting. Lantern Chandeliers are made of high-quality metal, it is not only elegant but also won't rust or break. suitable for decorating in any environment such as dining room, kitchen, foyer, porch, living room, and bedroom.
;
Bright Kitchen Lighting: The open-designed sputnik chandelier have ample brightness for indoor rooms. The dining room light fixture can also realize the dimming function, just use dimmable bulbs and replace the regular switch with a compatible dimmer switch. You can match with various styles of E12 bulbs and DIY your favorite Lantern Chandeliers. Suggested bulbs (max 40W) are LED, CFL, incandescent, and so on. (Bulbs Not Included).
;
Hassle-Free Installation: we provide black and gold chandelier detailed installation instructions for facilitating the installation of black gold chandelier, A clear picture and text can greatly save your time. The canopy allows you to install Lantern Chandeliers on any type of ceiling. Works better on sloping ceilings. In just 15 minutes, you can get such a unique modern chandelier. The fixture is hardwired, please be careful when installing it.
;
Comfortable And Satisfactory After-Sales Service: All parts of the black gold chandelier are UL listed, copper wire listed, non-toxic, and harmless. In addition, modern chandelier all parts have passed strict high-pressure high-temperatureperature tests, tensile tests, and lighting tests before production, so you use them with confidence. If you receive a defective sputnik chandelier, please contact us by mail, we will provide you with a solution within 24 hours.
;
Cube, geometric, minimalist, modern, Sputnik lights, lantern chandeliers, high-quality iron, and green materials are the features of the dining room chandeliers. The black gold chandelier can make your house look minimalist but not understated and emit bright light, evenly illuminated 360°, enough to illuminate the entire space.

Lantern Chandeliers Specifications:
Material: Metal
Bulb: 9xE12 (Not Included)
Power: Max 40W for each bulb
Voltage: 120V
Power Source: Hardwired
Dimensions: D28.5" x H26"

what is a sputnik chandelier?
---Sputnik lights
9 lights ensure the sputnik chandelier brightness (max 40W). The lighting range is wide. With dimmable bulbs and switches, you can also achieve dimming.
---Dining Room Chandelier
If you want to hang a modern chandelier in your restaurant, when you use dimming light bulbs to make your restaurant warm, the family will enjoy a gourmet dinner under the warm light.
---Hallway Chandelier
The hallway needs a black gold chandelier like this. This 6-Light chandelier can meet your needs.
---kitchen island lighting fixture
When using this black and gold chandelier as a kitchen island lighting fixture, you can find it is an excellent decorative chandelier.

The modern chandelier Package Includes:
1x 9-Lights modern chandelier
1x User Manual
Mounting Hardware Included
Note: 9x e12 base bulb NOT included

Notes:
The best distance between a pendant light and the floor is 82 inches.
The best distance between a pendant light and the table is 31 inches.
Please allow Lantern Chandeliers slight dimension differences due to different manual measurements.

What makes our sputnik chandelier unique?
1. Rigorous Pre-selection, only launch certified products.
2. Precise introduction.
3. Prompt Service, always reply to messages within 24 hrs.